XGIMI H1 Immersive Home Theatre with Harma Kardon Stereo
H1 Smart Projector with Harman Kardon Built-In Stereo
H1 by XGIMI is an amazing smart projector that replaces any home theater with an elegant single-cable box.
The XGIMI H1 is our new & improved Smart LED projector that can truly display the clarity and precision of TRUE HD 1920 x 1080p, rivaling far more expensive projectors transforming any surface into a 300-inch screen with unparalleled brightness and clarity.
Experience superior Hi-Fi sound quality with the 45mm built-in Harman Kardon stereo sound that can also be used as a stand-alone Bluetooth speaker.
Bring standard 2D video to life in brilliant 3D. Install apps and games with H1's Android OS and stream directly to the projector for a truly connected, superior viewing experience.
XGIMI has won two coveted CES Innovation Awards for its smart projectors. The H1 achieved an Honoree Award in the High Performance Home Audio/Video category, while the Z4 Aurora secured the Best of Innovation in the Portable Media Players and Accessories category
The annual CES Innovation Awards program rewards outstanding design and engineering across 28 consumer technology categories. The world-renowned event is the most coveted in the consumer technology industry.
An amazing smart projector that replaces any home theater with an elegant single-cable box for a fraction of the cost.
H1 comes fully loaded with the widest range of top specs. Stream, game, connect, and entertain with H1.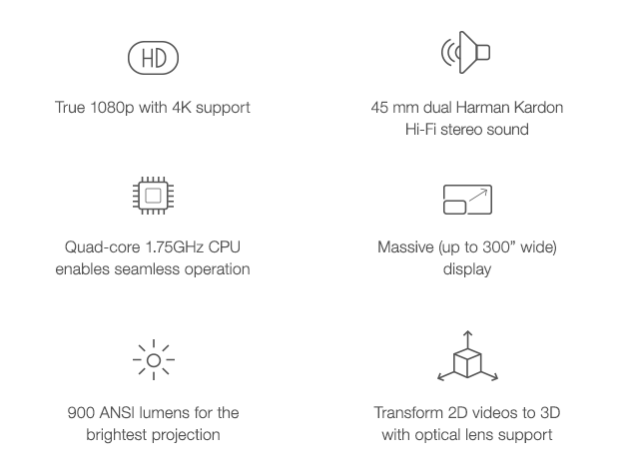 Enhance your entertainment experience with H1 for movies, TV, gaming, and music.
Stream your favorite movies, TV shows, and clips from Netflix, Hulu and YouTube.
Connect with your smartphone or console to enjoy immersive gameplay.
Stream music with Hi-Fi Harman Kardon 45mm dual unit stereo.
Setup is easy with H1. Seamlessly navigate your way through presentations with wireless connectivity.
Control your entire home theater system with H1's wireless, bluetooth enabled remote.
H1 remote is a gaming controller and cursor all rolled into one. Entertainment is effortless with one connected remote.
The Ultimate in True Clarity - 1080p Projection
H1's native resolution is HD 1080p, 2.25x clearer than standard 720p projectors.
XGIMI H1 Projects Perfect High-Res 3D Display
H1 uses DLP active shutter 3D imaging (cinema-grade technology) to convert any 2D video into a 3D feature film on a 300" display.
| | |
| --- | --- |
| What is XGIMI H1? | H1 is the world's first true 1080p projector that can project lifelike pictures up to 300″ wide, has built-in Harman Kardon stereo and runs Android OS, all at an accessible consumer price. |
| Who created H1? | XGIMI Technology Co., Ltd. |
| Why should we use H1? | H1 allows you to enjoy an amazing screenless 1080p audiovisual experience with high-definition Harman Kardon stereo, at an affordable price. |
| | |
| --- | --- |
| at features are available? | True 1080p projection quality, 300" display capability, 3D support, 2D-to-3D functionality, optical zoom function, bluetooth speaker, 35˚ (vertical) and 30˚ (horizontal) keystone correction, Android operating system, streaming ability, plus a bluetooth remote control with an embedded gravity sensor cursor. |
| What is the uniqueness of the technology? | Unlike a traditional LCD projector, H1 uses LED technology. The lifetime of an LED bulb is much longer and is far less likely to overheat than a typical projector bulb. H1 is much smaller and more portable than a traditional projector. Compared to standard Pico projectors that only support 1080p, H1 projects true 1080p physical resolution. H1 also has a higher lumen count than most Pico projectors. H1's 3D functionality and its vertical and horizontal keystone correction capabilities are more advanced than any other product in this market. |
| Will there be updates to H1 in the future? | Yes – the Android OS will continue to optimize and update over time. |
| How does H1 integrate with other connected devices? | Other devices (smartphone, PC, tablet, laptop) can be connected to H1 with mirror display. TV boxes and gaming consoles can be connected through H1's HDMI port. Hard drives and thumb drives can be connected through H1's USB ports. |
| Does H1 have an app? Which phones does it work with? | We have an app (XGIMI Assistant) to control and manage apps on H1. This app is compatible with iOS, and Android. |
| How does H1 connect to the XGIMI Assistant app? | The device and H1 must be connected to the same wifi network, then connected via the XGIMI Assistant app. |
| What can we expect from XGIMI Assistan app? | Access to Google Play store and smart remote control functionality. The XGIMI Assistant app is simple and intuitive. |